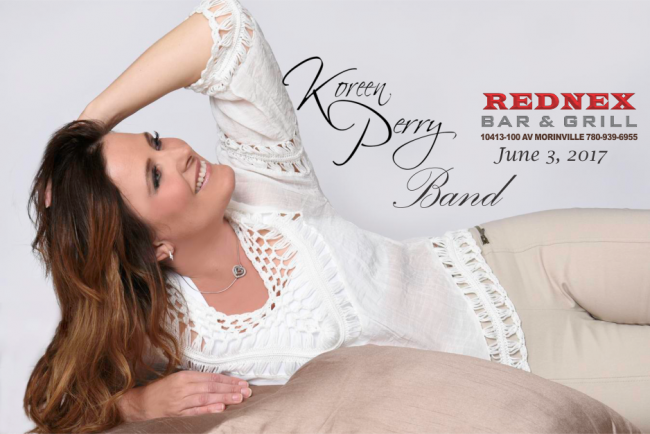 Country-pop, folk-pop, and a little bit of classic rock from the 70s and 80s is what you can expect when Koreen Perry and her band hit the stage!
Koreen's new 5-song original EP album "Evolved" has recently been released to country radio across Canada with great success! The EP is a pop-country cocktail. There's the LA-style pop song "See Through You," country-pop songs "You Don't Know Me" and "Dreams In A Bucket," along with the organic folk-pop love song "You & Me." Bonus track of her last pop single "Lucky" is added to the tasty mix.
​Starting a new career at the mid-point of life is an adrenaline rush
for singer-songwriter Koreen Perry that's been a long time coming…
​​Koreen Perry is enjoying film success with her originals as well as radio exposure. Her songs "Lucky" and "Playing My Emotions" debut on the feature film "Gone By Dawn," directed by Shaun Donnelly.
Actress and singer, Koreen plays Sheryl Mullens, the principal suppporting role, in a feature film currently in the works called "Breaking Spirits," again directed by Donnelly. It will feature three more of Perry's upcoming songs "See Through You," "You Don't Know Me," and "Dreams in a Bucket."
Her single "Lucky" was in rotation over 34 stations across Canada after it's successful radio release. The catchy pop song was recorded in LA under the guidance of Blue Pie Records.
Born and raised in Edmonton, Alberta, Canada, Koreen was surrounded by music, theatre, film and performance from an early age. As a growing vocalist, she was part of Edmonton Musical Theatre.
She put her performance skills to use first as a TV reporter and later moved into court reporting. Eager to experience the world, she moved to Calgary for 10 years and spent six months living in Australia working as a live TV captioner – a profession she continues today.
Push the fast forward button and Koreen had returned to Alberta in 2006. After raising her family as a single mom of two boys, and before remarrying in 2014, she decided to start following her dream – that of a contemporary pop-country singer and actress. She trained with Cooper Studios, paid her dues at festivals, clubs and bars and received a grant from RAWLCO Radio to produce her first self-titled CD in 2012.
Her first kick at the can was an easy going classic rock/country-style album of her first originals combined with cover songs from luminaries such as Olivia Newton-John, ABBA, and Fleetwood Mac.
Combining albums and singles, Koreen delivers an eclectic variety from the bubbly "Lucky" and soulful "Face to Face" to the jazzier "Playing My Emotions," and the edgier "Law of Attraction."
Several band performances and festival showcases later – including Canadian Music Week and Canadian Country Music Week, Koreen Perry has adopted a more polished Shania-esque presentation in her performances. She frequently performs live acoustic or with her band at private functions, bars and festivals around Alberta. She continues to focus on her singing, song writing and recording.